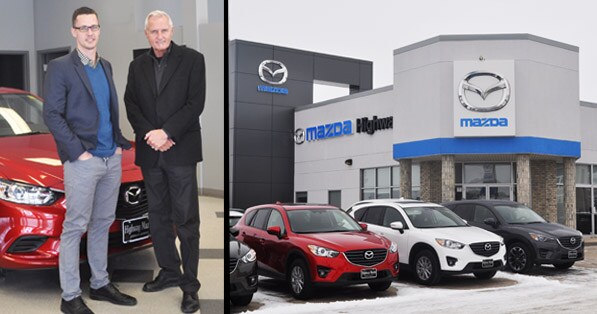 At Highway Mazda we believe an exceptional customer experience truly is possible. Since taking charge of the store in 2013, We have sold over 500 new Mazda's! Many of those vehicles have been sold into our local area. We are very proud to serve our community and strive to provide the best purchasing and service experience we can.
Our goal is to make any interactions positive and fair. We believe that buying a vehicle should and can be a great experience. We pride ourselves on being open and honest about each and every deal we do. Whether you are buying a new or a used vehicle, the experience will be a good one.
We also want to say thank you to our local community and trading area for supporting us the way they do. We are very proud to serve our community. We are excited about the future with Mazda. We will continue to do our best to have customer satisfaction at the top of the charts.
Serving Steinbach and Southeast Manitoba, Highway Mazda, located at 101 Hwy 12 North in Steinbach, MB, is your premier retailer of New Mazda Vehicles and Used Vehicles of all makes and models. Our dedicated sales staff and top-trained technicians are here to make your auto shopping experience fun, easy and financially advantageous. Call us at 888-776-1461 or send us an email.
We look forward to earning your business and trust.